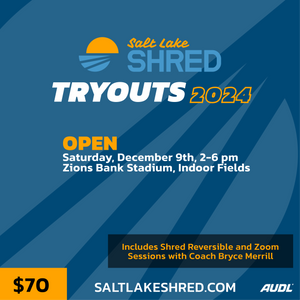 2024 Shred Open Tryouts
The Shred had an incredible second season and made it to Championship Weekend and the Finals. Do you think your talents can help continue our success?
Athletes, ages 18+, are invited to come be a part of the Salt Lake Shred 2024 tryout process. Through a series of drills, focused scrimmages, and athletic combine tests, athletes will have a chance to face off against other Shred hopefuls from around the Big Sky to  compete for a spot on the year three roster.

Even if you don't think you can make the team this year (or any year), tryouts are a great opportunity to learn and to test yourself. Come play competitive ultimate with us!
When:
Open Tryouts, Saturday, December 9, 2023, 2 PM - 6 PM

Closed Tryouts, Saturday, February 10, 2024, 5 PM - 9 PM 
Where:
Zions Bank Stadium Indoor Facility
14787 Academy Pkwy, Herriman, UT 84096
Out or town or travel players can reach out to Coach Bryce prior to tryouts to discuss tryout options and season expectations. If you need a place to stay during tryouts, please contact info@saltlakeshred.com. 
Tryout Fees:
Tryouts fees will be $70 and will include a Shred reversible jersey, an optional zoom session with Coach Bryce (sessions will be held Dec 5 and 6 at 7 pm, they will cover the same information), and weather permitting, an outdoor scrimmage on December 2 from 12-2 pm. We don't want tryout fees to be a deterrent to anyone who wants to try out. Please let us know if you need financial aid. info@saltlakeshred.com. 
Advance notice that there will be some additional fees associated with the closed tryout if you are selected. 
Requirements:
Prior to official tryouts, all players must provide the following:
   

Completed Tryout Form - will be emailed to you prior to tryouts

    Players will be REQUIRED to get a physical from a doctor

 

PRIOR

 

to tryouts so start scheduling those now. For those players located in Utah, there will be an after-hours evening of physicals at Advanced Sports and Orthopedics in Saratoga Springs on December 5th. For more information and to sign up, please fill out this form.
Reversible jersey:

All tryout participants will receive a reversible jersey upon arrival. Please select your size above.

Come be a part of the best Shred season yet!